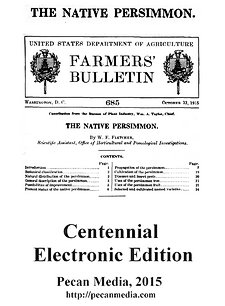 Download this ebook:
The Native Persimmon
(ePub, Mobi, and PDF formats, DRM-free)
1915 USDA Farmers' Bulletin
grafting and cultivation
uses and recipes
The Native Persimmon by W. F. Fletcher was first published in 1915 by the United States Department of Agriculture as USDA Farmers' Bulletin #685. One hundred years later it remains the definitive guide on the propagation, cultivation, and uses of the wild/native American persimmon (Diospyros virginiana).
This Pecan Media 2015 Centennial electronic edition of The Native Persimmon is the first electronic edition in modern ebook formats that are easy to read on any reading device. The entire fully-searchable text has been proofed and formatted to be displayed using whatever fonts, sizes, margins, and presentation that your reading devices allow. We at Pecan Press have been disappointed in the past by "ebooks" that turned out to be hard-to-read tiny graphical images of pages badly scanned from paper books. Pecan Press publishes only true full-text .epub and .mobi formats to make your electronic reading easy and pleasant.
America's native persimmon is a member of the ebony family. Its timber is hard and dark, while its fruits are sweet and orange and pulpy with a flavor somewhat reminiscent of dates, leading to its early nickname of "date plum". The Native Persimmon contains detailed information about this valuable tree, including much that's not to be found in more modern publication. Sections include:
How to propagate persimmons by seed, root, and branch cuttings;
How to propagate persimmons by several different grafting methods;
How to cultivate, prune, maintain, and care for persimmon trees;
How to harvest and pack persimmons for market;
Fifteen recipes for preserving and preparing persimmon fruit;
A list describing thirteen specific persimmon cultivars in use in 1915.
We hope you enjoy this modern edition of The Native Persimmon. Thank you!